Your Brand, Our Solutions
Introducing
DashHound

Agency Services
Your Business. Your Brand. Your Solutions.
At DashHound, we offer a full suite of digital advertising and lead generation solutions to help grow your business. But we know it's not just about the technology – it's about your brand identity.
That's why we provide all of our services on a white label basis, allowing you to deliver powerful digital marketing campaigns using DashHound's proprietary technology, all under your own brand name.
In addition, with the DashHound Business App, you can provide your clients with their own customized portal to manage their digital strategy, all under your brand.
Check out your interactive dashboard
Access a demo of our interactive reporting dashboard and see amazing insights right at your fingertips.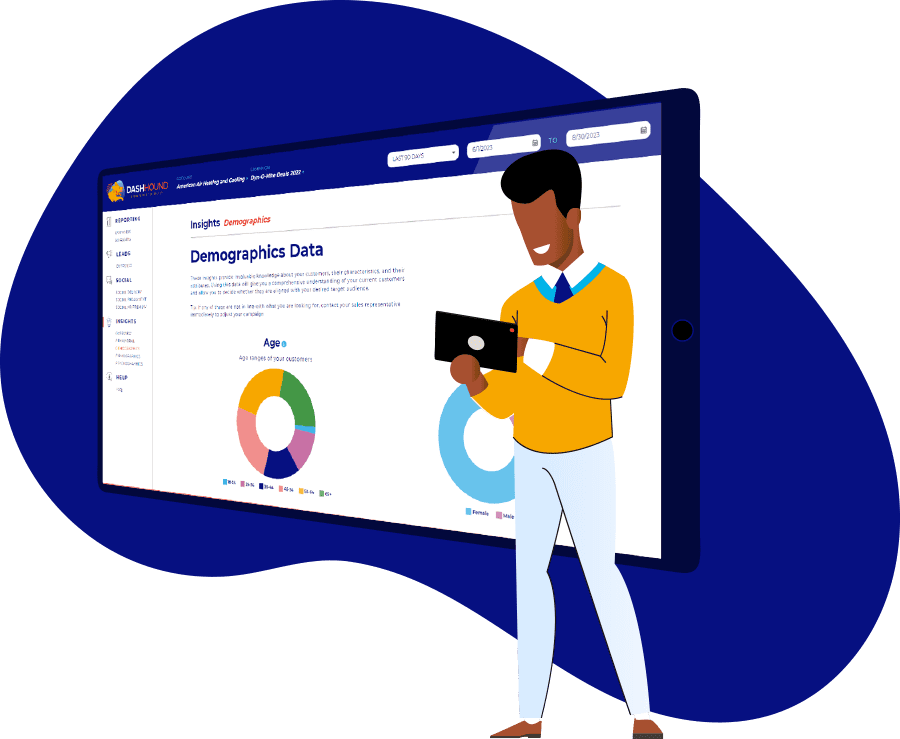 The DashHound Business App is a white label platform you can offer to your clients to help them succeed online. Key features include:
Your Branding
The platform is completely white labeled so your clients only see your brand.
Client Portal
Your clients get their own portal to access conversion-focused products, communicate with customers, schedule appointments, and more.
Executive Report
Automated proof-of-performance reporting shows your clients where they are winning across key business metrics.
Display Your Online Store
Share the breadth of your offerings online with DashHound's curated, white-label store on your website to generate leads and showcase everything you have to sell.
Multi-Location
Roll up data from multiple client locations into one view for easy comparison and analysis.
Sales and Success Management
Enable your sales team with better prospecting, smarter outreach, and faster sales—all from the DashHound platform with marketing automation, opportunity management, sales collaboration, contact management, scheduling, and CRM integrations.
Free Premium Marketing Insights to use for your own agency.
Contact us today and get free Premium Marketing Insights to use for your own agency. Let DashHound fetch data about your customers so that you can better understand their behaviors and intent.
Let DashHound empower the growth of your agency on your terms with our white label digital advertising, lead generation, and business management solutions. Contact us today to take advantage of this limited time offer!
Okay, I'm in – Let's Chat!